It is now very well known that Basque Gastronomy is among the best in the world. Thanks to the mix of our unique tradition and the innovation started by Basque chefs in the late 90's, our dishes are now in every top list.
Do not miss the chance to taste many different and unique options! Here are the must-ones, but please try and enjoy every typical dish you are offered!

Pintxos
Our most famous grastonomic hit! Do not get fooled, pintxos are not tapas! Pintxos are real miniature Gastro-Art. In every Basque town you will find different alternatives at mostly any bar, cafe or restaurant. And don't miss the popular pintxo-pote on Thursdays! One pintxo + one drink cheaper than any other day.
Talos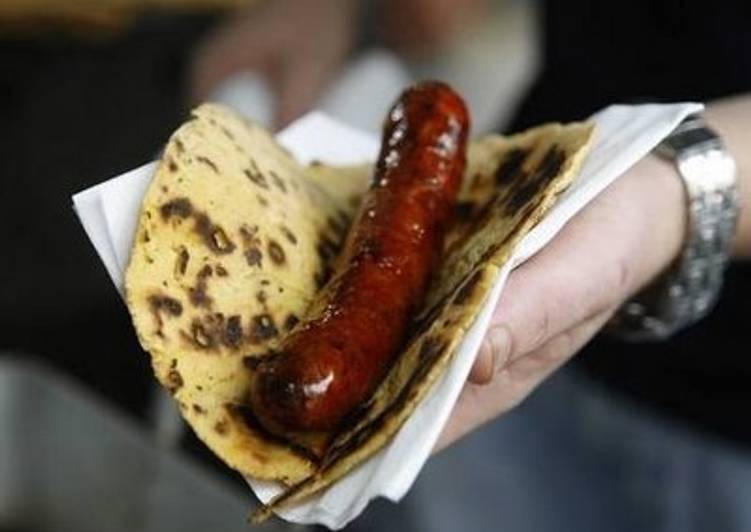 This simple but delicious recipe is an antique example of typical Basque food: a flat bread made of corn flour that wraps some pork cold meat (normally chorizo or morcilla). Because of its tradition and simplicity, is hard to find talos in restaurants or bars. However, they are a must in every Basque fiesta, fair or traditional event.
Carolinas
Have you seen a beautiful meringue cone pastry in any window or display from a cake shop? That's a Carolina! It is just a miniature pastry crust filled with custard and topped with a meringue cone, but you will ONLY find it in Bilbao. Typically the cone has a coating of sweet egg yolk glaze and dark chocolate. Please taste this unique pastry before leaving Bilbao.
Bollos de mantequilla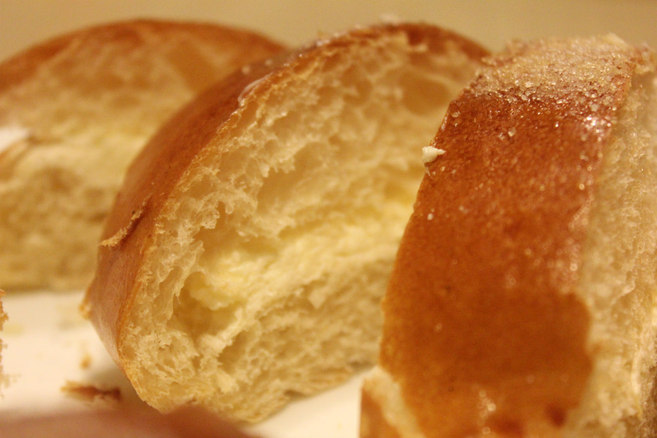 This is a very popular sweet treat, specifically from Bilbao. It is basically a brioche filled with a cream made of butter, sugar and egg, and covered by some sugar. You can find it at mostly any cake shop and it is one of the most favourite afternoon snacks of many Basque children. Go back to your early years by having a bite of this delicatessen!
Gildas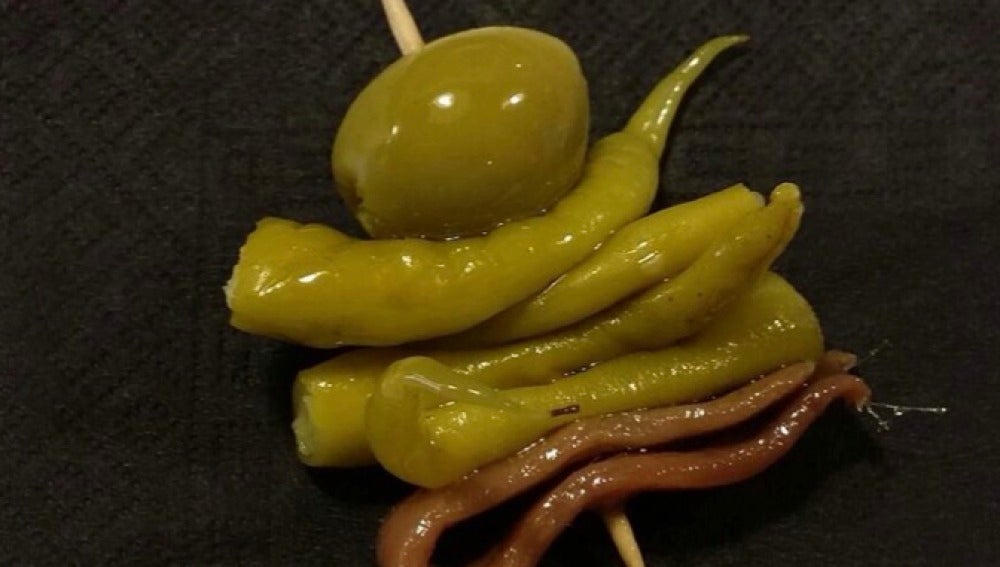 The pintxo par excellence! As simple as tasty… Although nowadays there are infinite variation, gildas were created in San Sebastián and are made of an anchovy, an olive and a typical kind of chilly (very smooth but spicy). They are normally shared with a pote (wine, beer, vermouth…) at any time of the day. Try them anywhere!
Marmitako
Marmitako is a fish stew that was eaten on tuna fishing boats in the Cantabrian Sea. Today it is a simple dish with potatoes, onions, peppers, and tomatoes, but truly delightful! Most Basque restaurants and bars offer it in their daily menu but, as it is a very old recipe, each family give it its own touch 😉 Either on a cold winter day or for a sunny lunch, this succulent and nutritious casserole will make you feel awesome!
Bacalao al pil pil
This traditional recipe is probably among the top 5 most famous dishes in the Basque Country. It is made with four simple ingredients: cod, olive oil, garlic and chilli peppers. In spite of this simplicity, the technique to actually get the characteristic texture of pil pil sauce is pretty difficult. There are pil pil competitions all over the Basque country and strong debates about how to "properly" prepare and serve it. Our tip? Try and taste as many different recipes as you can! It is a real unusual fish dish, very tasty and completely unique.
Txipirones en su tinta
The Cantabric Sea is famous for, among many other species, its super tasty little squids. This variety of cephalopods is much appreciated amongst chefs from all over the world. Although they are delicious cooked in any way, the most traditional recipe in the Basque Country is to stew them in their own ink. The appearance is horrible (we know): a black thick sauce all over the dish… But looks can be deceiving! Give it a try, you will never forget the taste and will not be able to eat it at any other place in the world.
Porrusalda
This Basque version of a vichyssoise or leek soup is also one of our most special recipes. Basically prepared with leeks and potatoes, Basques add cod and its broth, which makes it a bit salty and accentuates all the vegetables flavors. Like other hits within this list, it is not easy to find at chic restaurants, but rather at traditional bars and in grandmas' homes.
Goxua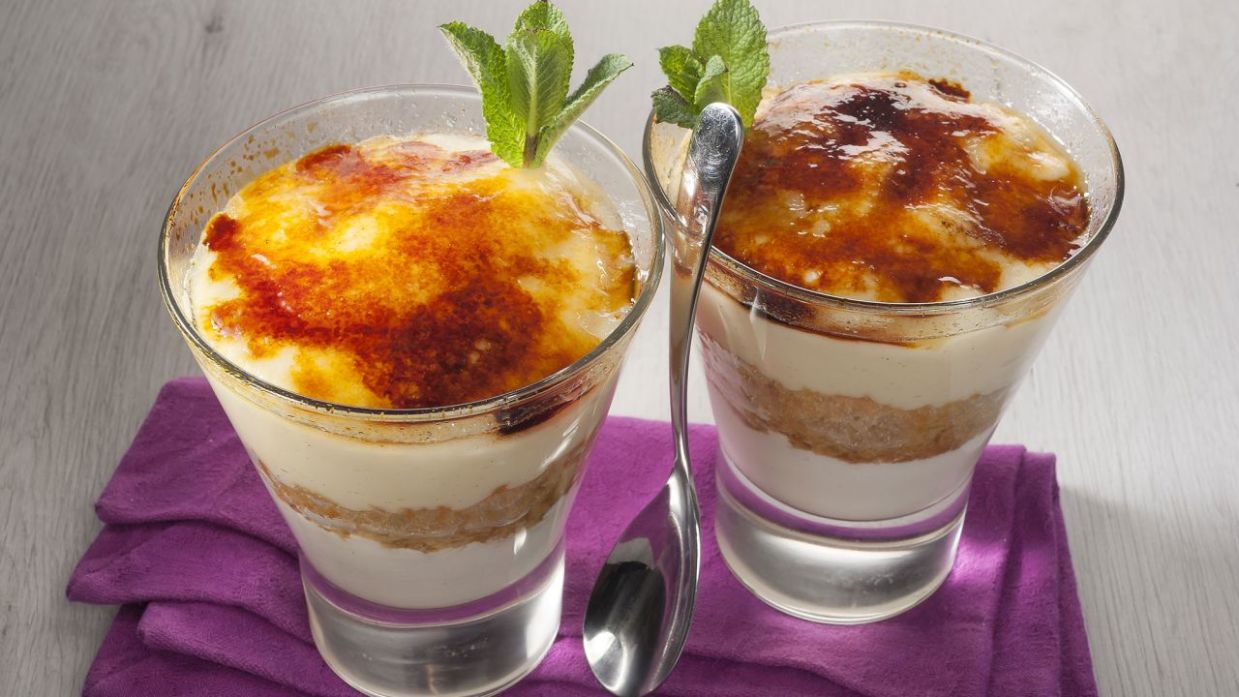 Goxua (which means sweet in Basque) is a typical dessert from the Basque Country, especially from Vitoria-Gasteiz, but exported to the rest of the region. It consists of a base of whipped cream, one layer of sponge cake and a top layer of caramelized kind of custard. Traditionally, it is served in a big clay cake pot, but you can now find individual bowls not only at restaurants, but also in many supermarkets. There's your new fav dessert!
We hope you enjoy all these yummy Basque symbols! There are so many more… and Basque people love talking about our gastronomy. So don't be shy; ask and try as much as you can! 🙂